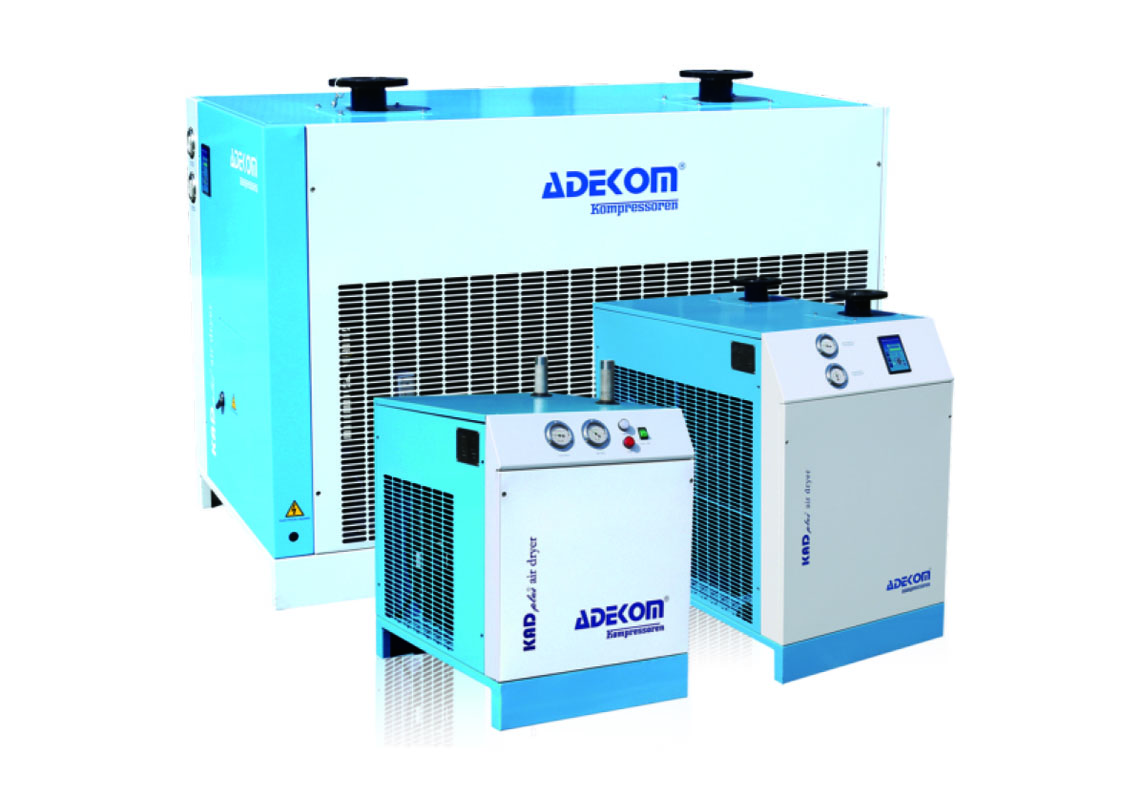 A dry compressed air system is essential to maintain the reliability of production processes and the quality of end products. Untreated air can cause corrosion in pipework, premature failure of pneumatic equipment, and product spoilage. Adekom offers a full range of air and gas dryers, filters, and generators that will protect your systems and processes.
A well designed compressed air system ensures that the air quality demands of the process are closely met. With the desired ISO class as a guide, the appropriate components can be selected.
Over the years, Adekom has innovatively developed and improved air/gas compression and drying techniques. Whatever your application or quality requirements, Adekom can offer the right air/gas treatment solution. Every product is designed, built and individually tested, ISO 9001 and ISO 14001 certified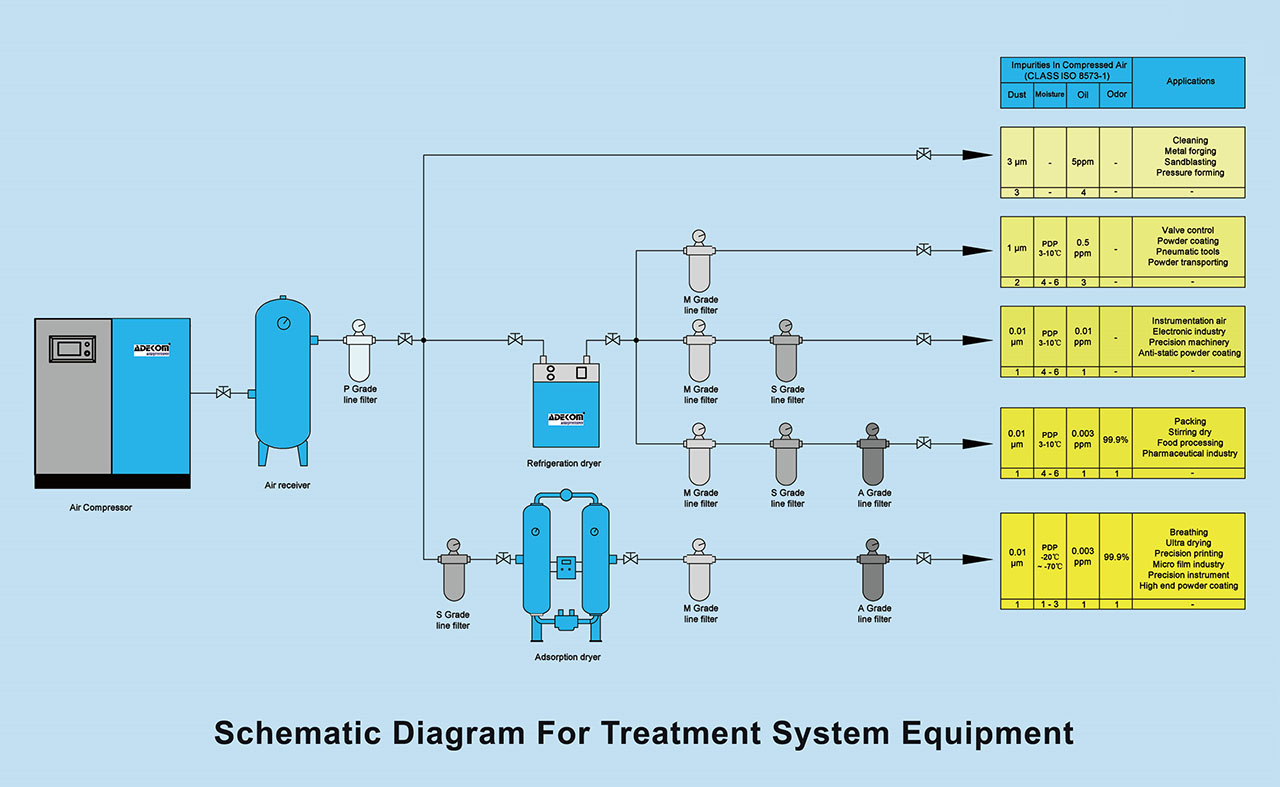 Intake air from the compressor always contains moisture. With the compression and subsequent cooling, the compressed air is always saturated to 100% with moisture. Anyone who sends compressed air through a pipe network needs to protect against corrosion in order to prevent machine failures or production waste. As a result, each compressed air system includes at least one dryer and/or other processing components, such as filters or condensate separators. Different drying technologies are available: refrigerant dryers for simple applications and desiccant dryers for high to extremely high standards.
Refrigerant dryers are very reliable and economical. They work with built-in refrigerant compressors, which cool the air via heat exchangers, separate the resulting condensate and produce dry air with a pressure dewpoint of 3°C, so your systems are reliably protected from corrosion.
Dry, quality air is vital for long-term, troublefree operation of your processes. Adekom's KAD+ dryers protect your products and systems against damage or corrosion.They remove moisture from compressed air with a dew point as low as 3°C/37,4°F. Easy to install, simple to operate and reliable, they provide the dry air you need, allowing you to concentrate on your core business,
KAD + SERIES REFRIGERATED AIR DRYER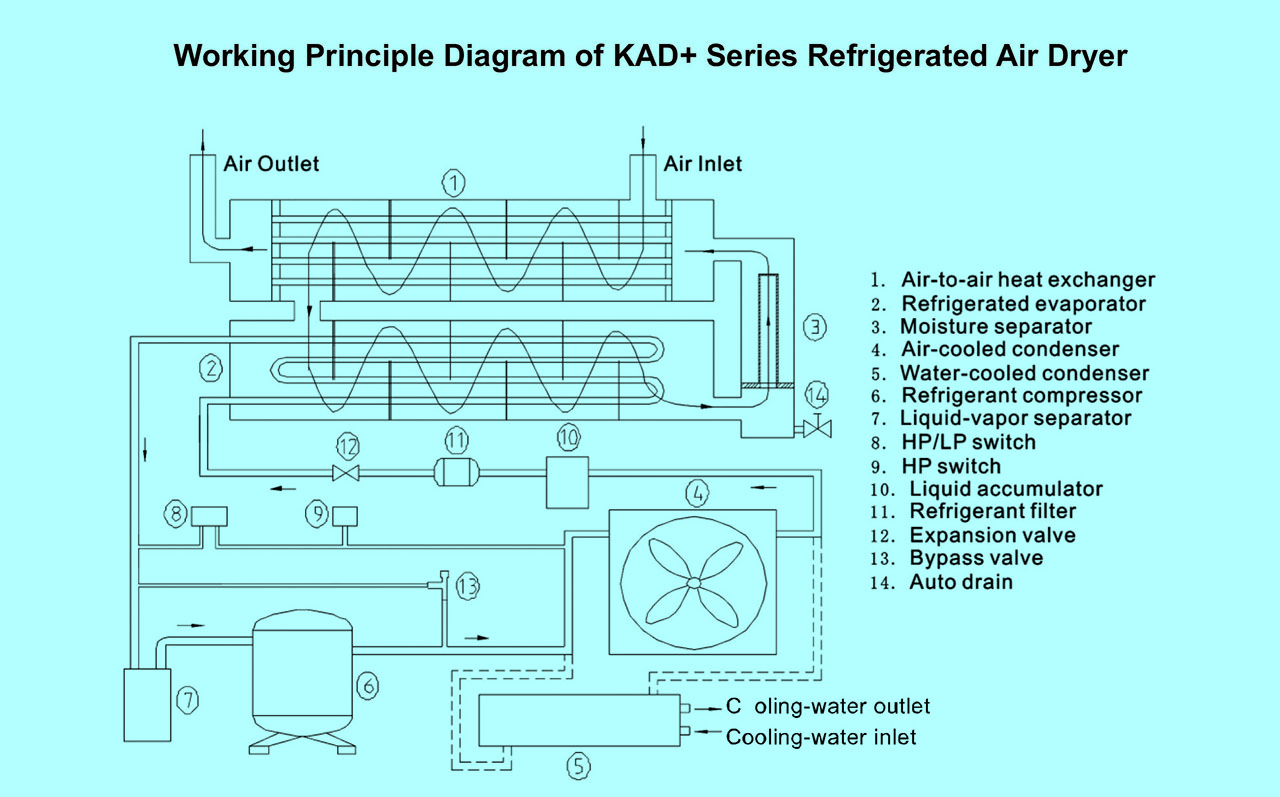 [ AIR CIRCUIT ]
The compressed air flows from Air inlet into Pre-cooler for preliminary cooling, then passes through Evaporator for further cooling, the compressed air after refrigeration enters Moisture separator, the condensed water is separated and removed out via autodrain. The dried cool air is returned back to heat exchanger for gaining temperature, and then comes out the dryer through Air outlet
[ REFRIGERANT CIRCUIT ]
The refrigerant after passing through Refrigerant compressor becomes liquid form in high temperature and high pressure, this liquid form refrigerant flows through Condenser to cool down and then passes through desiccant filter for removing particulates. Refrigerant after passing through Capillary becomes low temperature vapour form then enters Evaporator to conduct heat exchange with incoming hot compressed air. After refrigeration process, the refrigerant returns back to Refrigerant compressor for the next cycle.
[ INSTALLATION AND MAINTENANCE ]
All KAD+ refrigerated air dryers do not require special foundation. Immediate start-up after connection of inlet and outlet pipes and power supply cable.
[ THE MAIN ADVANTAGES OF KAD + AIR DRYER ]
The evaporator and the air -to air heat exchanger comprise a single coil with copper tubers and aluminum fins. The inlet air is efficiently cooled while the discharge air is re-heated to prevent condensate formation.
Air-cooled by an electric fan fitted with a safety grille. Comprises copper tubes and aluminum fins coil. Both the condenser and the fan are generously sized to operate at high ambient temperatures and also to ensure effective cooling of internal electronic components.
Hermetic, suction gas cooled and protected against thermal and current overloads. The compressor is mounted on anti-vibration rubber supports to ensure quiet running.
The condensate is separated in a high efficiency stainless steel mesh "demister".
The simple-to-use automatic electric control panel continuously monitors and displays overall system performance status with alarms for malfunctions and safety shutdown.
Made from sheet steel panels which have been phosphate, degreased and polyester powder painted. The panels are not structural elements and are easily removable for service.

World renowned brand hermetic or scroll type refrigerant compressor with double-stage reverse-flow heat exchanger to maximize cooling and heat exchange efficiency.
Intelligent control system + multiple electronic control and protection settings.
High-speed low-noise level cooling fan with fin-type high-efficiency condenser, heat dissipation effect is maximized.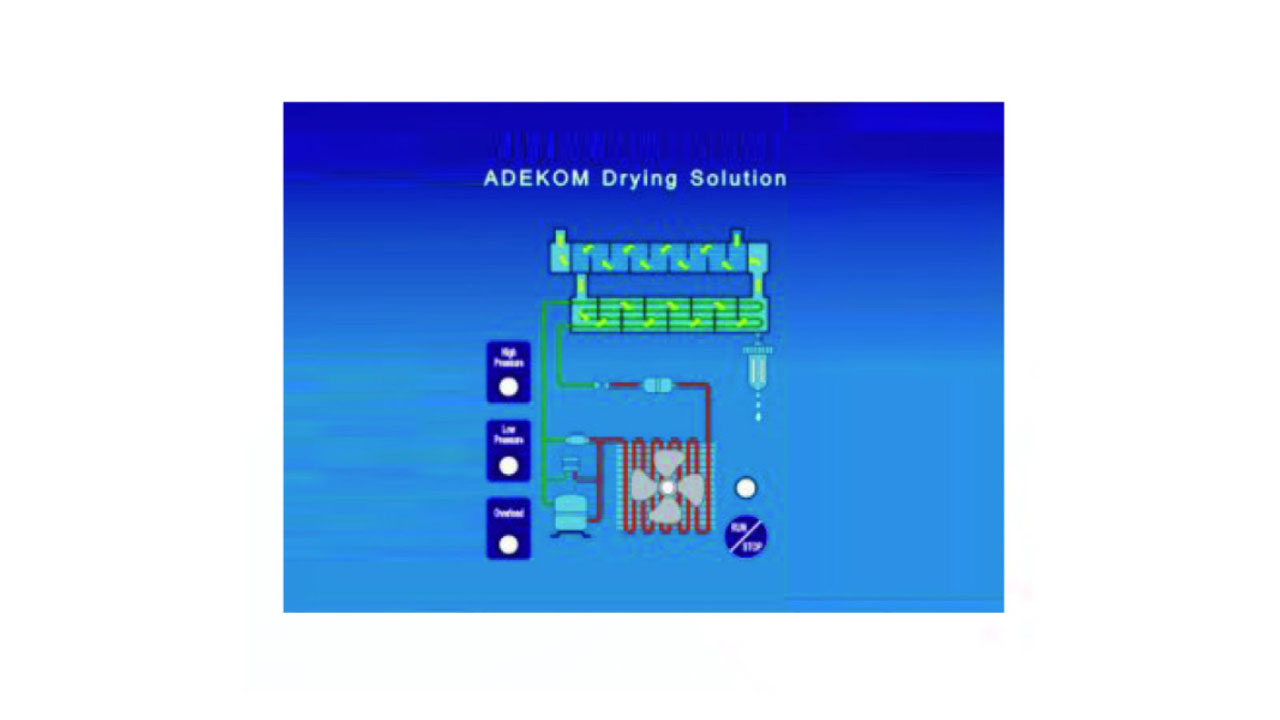 LG 5 INTELLIGENT CONTROL PANEL
Start / stop control with trip protection.
Condensate drainer timer/manual discharge selection.
3-way fault signal input and alarm.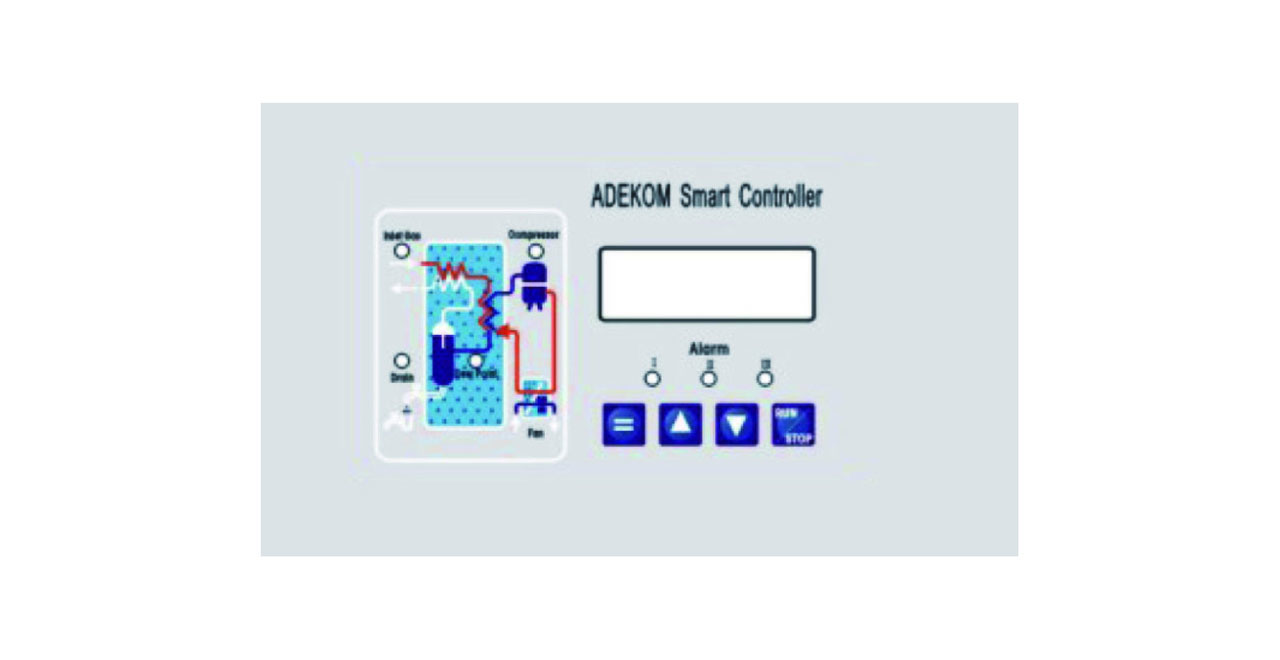 LG 10 INTELLIGENT CONTROL PANEL
Load / remote control selection.
Condensate drainer functional control.
Multi-spots temperature monitoring.
LED display with parameter setting.
Proactive fault alarm.
RS485 data communication availability.
Online pressure dew point temperature monitoring as option.
KAD + SERIES REFRIGERATED AIR DRYER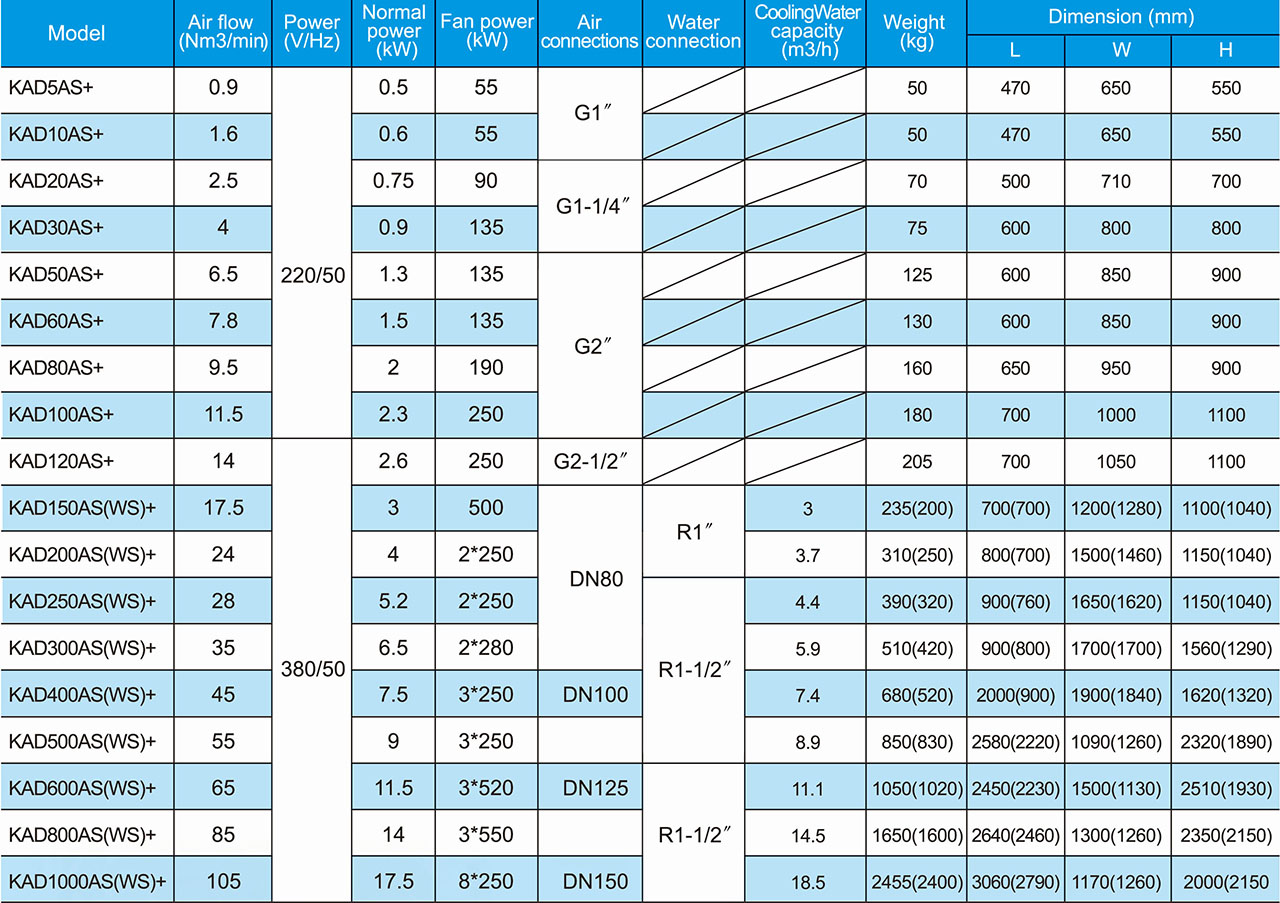 NOTE :
KAD5AS+ means air-cooled model; KAD200AS(WS)+ means air-/water-cooled models available.
KAD600WS+ means only water-cooled model is available.
In compliance with ISO 7183 standard at the following rated standard conditions.
Maximum operation pressure 1.6, 2.5, 4.5, or 5.0 Mpa on request.
Standard conditions
Air inlet temperature : 45

°

C.
Ambient temperature : 35

°

C.
Working pressure : 0.7 Mpa.
Pressure dew point : 3~10

°

C.
Refrigerant : R22 / R134a / R407c / R410a.
Working conditions
Working pressure : 0.6~1.3Mpa.
Ambient temperature : 5~45

°

C.
Max. inlet temperature : 50

°

C.
Inlet air temperature correction formula
Standard temperature x Standard air flow rate = Actual air flow rate. Actual Temperature e.g. Standard air flow rate for KAD20AS+ is 2.5m3/min. If the actual inlet air temperature is 65 oC, then the actual air rate will be: x 2.5m3/min = 1.73m3/min
Working pressure correction formula
Actual air inlet pressure x Standard air flow rate = Actual air flow rate e.g. Standard air flow rate for KAD60AS+ is 7.8m3/min. If the actual inlet pressure is 10bar(g), then the actual air flow will be: x 7.8m3/min = 11.14m3/min
KAD + Series High Temperature Air-cooled Type Refrigerated Air Dryer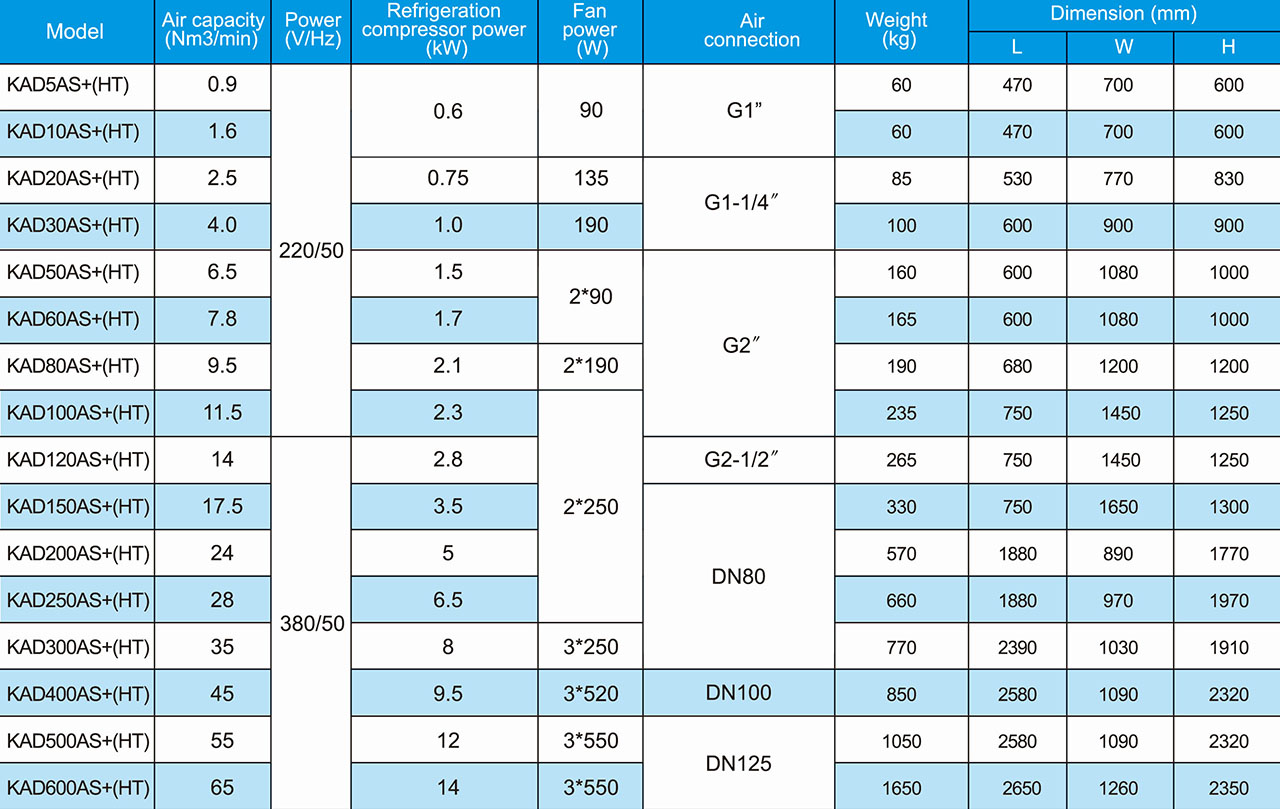 KAD + Series High Temperature Water-cooled Type Refrigerated Air Dryer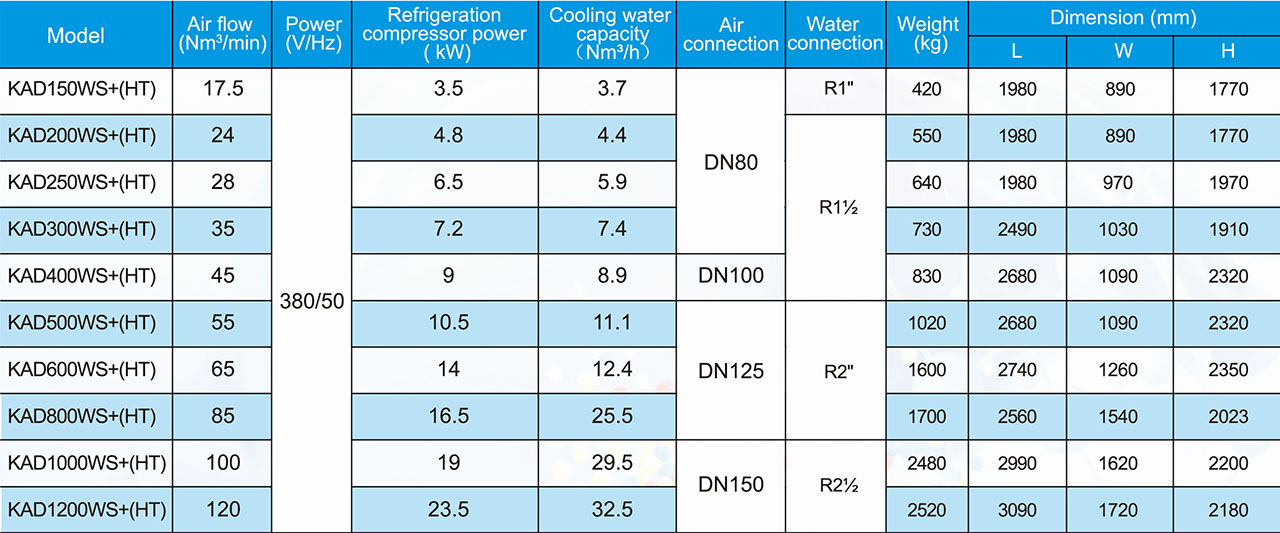 Rated operating condition :
Air inlet temperature: ≤80

°

C.
Intake Pressure: 6~13bar.
Ambient temperature: ≤40

°

C.
Pressure dew point: 3~10

°

C.
(Water-cooled) Cooling water temperature: ≤32

°

C.
(Water-cooled) Cooling water pressure: 2~4 bar.
Refrigerant: R22, R134a, R410A, R407c.
** The configurations just for reference. Data Changes, without notice